Yesterday, on the 1st of August, was launched a campaign "The bright color of a good cause" aimed at collecting funds for the fight against HIV / AIDS. The uniqueness of this campaign is that the donations will be carried out by ordinary people who will buy certain goods and services marked with a special symbol of a red quilt.
We, the NGO "Initiativa Pozitiva", believe that HIV / AIDS epidemic can be stopped thanks to informing people about this issue and taking a personal part in this fight. That's why we decided to give each of you an opportunity to contribute to this great, noble and needed cause. What do you need to do? Buy a product or use a service marked with a red ribbon that resembles a ladybug. A manufacturer will transfer to 8% of the value of a product /a service to a special account, the money from which will help people affected by the HIV / AIDS epidemic. In addition, buying a branded product / service, you get the information materials about HIV infection. After all, only through raising awareness we can reduce stigma and discrimination of people living with HIV.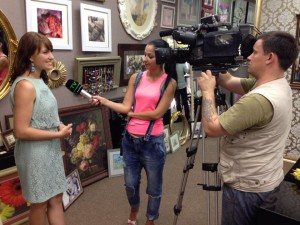 All this was said at yesterday's presentation, attended by all the participants of this action, as well as friends and partners of the organization "Initiativa Pozitiva." The event was held at the Art Salon «molDeco», whose owner, Stella Moldoveanu, was one of the first person who decided to take an active part in the campaign. "You know, if we have such an opportunity – to inform and help – it is necessary to do it" – admitted Stella. "Especially it concerns those people who have a certain status and authority because other people can follow them and we can collect more people to help others. As for the action, this idea is perfect! After all, people kind of buy something for themselves, but at the same time they help others. "
And here is what Sergey, the owner of the brand «Catalin Botezatu», thinks, he is also a partner of the action: "In our country we don't talk much about this problem, we seem to pretend that it does not exist. And I am very glad that the campaign "The bright color of a good cause" was launched, maybe with its help we can spread the information about HIV and so people will no longer consider it as a plague of the 21st century. This is a common disease, everyone can get infected. We should all together start to speak at loud about it, so that our children know how to protect themselves from HIV, and what to do if the infection occurred. It is an honor for me to participate in this campaign and I am sure that our customers will be also actively involved in buying the marked products. "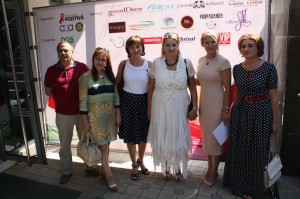 Active participation in the campaign took place already during the presentation of the campaign "The bright color of a good cause." Especially for the event organizers have bought hand-made accessories with the image of a ladybug as a quilt. Guests could buy them and the money was collected into a transparent container. This way, in just a few hours we managed to raise a decent amount of money that will be used to help people living with HIV.
If you, dear readers, want to just get involved in the action "The bright color of a good cause", then just buy a product or service of the following brands: «Felicia», Art Salon «MolDeco», cafe «Propaganda», the company «RihpangalPharma» (brand «Masculan»), Kheops, Catalin Botezatu, Capital Energetic, beauty salons «Micusa Still».
Remember, by helping others, we are making this world a better place.